Supply Chain Logistics Management | National Delivery Solutions
Handling large order volumes and scaling across several supply chains can be a tall order, especially if your organization isn't equipped with the right tools or experience required to scale. Supply chain logistics management can quickly become overwhelming, forcing your business to adapt and adjust in order to meet customer demands and continue growing in your respective market.
Unfortunately, things don't always go as planned, and supply chain disruptions and delays do often occur. If your organization was to encounter a severe supply chain disruption right now, do you have the management tools, knowledge, and equipment in place to gracefully make it to the other side? For many organizations, a severe supply chain disruption will have severe negative impacts that can affect business operations in the long term.
However – it doesn't have to be that way. If you know what you're doing and take active steps to mitigate potential disruptions, you'll be well on your way to building rock-solid supply chains that hold up through the test of time.
If you're ready to navigate through supply chain disturbances with ease and ensure all of your packaged goods make it to their destinations with minimal effort, working with a reliable logistics management provider and courier service such as National Delivery Solutions (NDS) can help you get the job done.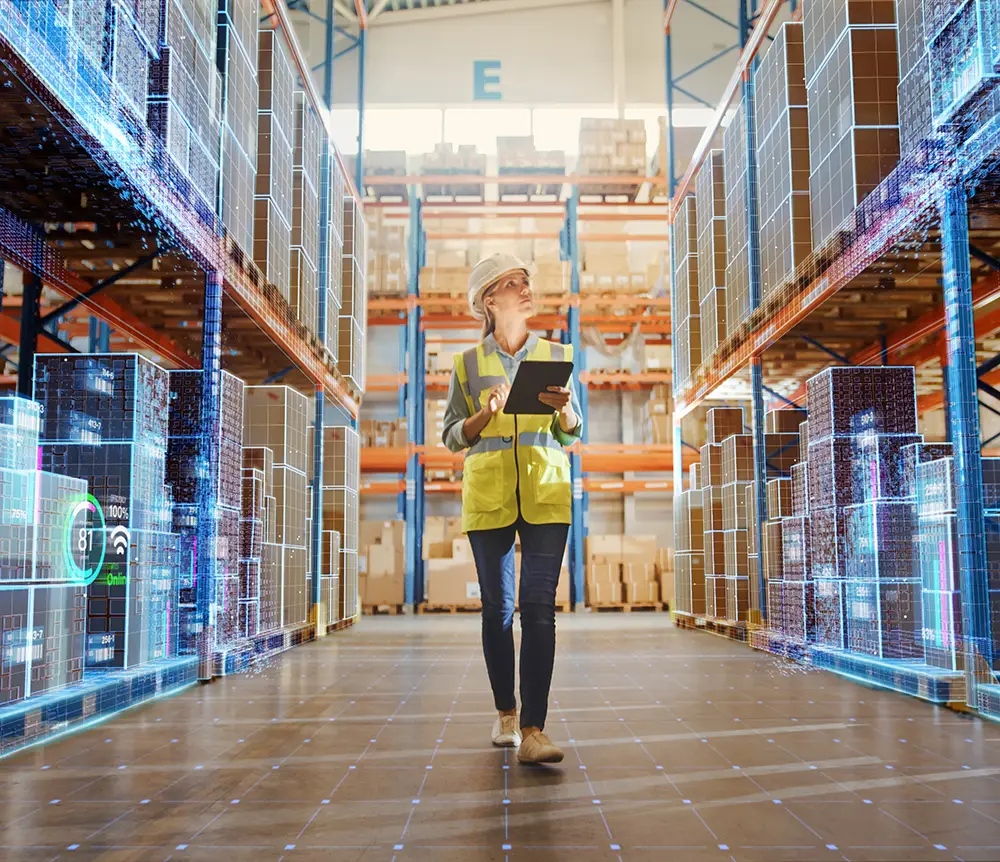 What is supply chain logistics?
Supply chain logistics is the process of ensuring that customers receive their desired products at the right place and at the right time, with the right price and the right quality. A successful supply chain logistics provider will deliver precisely what was promised to a customer, making them a satisfied buyer and much more likely to do business with the company they purchased from in the future.
Whether your business is in healthcare, e-commerce, automotive, developing innovative technology, or working with global supply chains, taking the time to optimize your supply chain end-to-end with an experienced manager can be priceless. It can boost your bottom line, resulting in cost savings, and greater sustainability.
Supply chain logistics can be further divided into two groups titled outbound logistics and inbound logistics. As their names suggest, each group is focused exclusively on either shipping products out or receiving products that are inbound.
In inbound logistics, the products received are typically raw materials that must be appropriately stored and handled. In outbound logistics, the primary focus is on distributing goods to customers and clients.
What do supply chain logistics management organizations do?
The primary goal of supply chain logistics management organizations is to link major business processes together, across multiple companies, production lines, or departments, with the purpose of developing a high-performance business model that achieves results and drives competitive advantage.
To put it simply, supply chain logistics managers are in charge of optimizing supply chains and ensuring that goods and services are produced and delivered in an optimal and efficient manner, consistently.
What problems does supply chain management solve?
Supply chain management solves the problem of inefficiency, disorganization, and lack of communication in organizations. If a high-volume supply chain doesn't have a manager that understands the importance of collaboration between departments, firms, employees, or other stakeholders, the entire supply chain may suffer as a result.
With proper supply chain management, value will be produced for the end consumer, and the organization's overall efficiency will be improved.
What are the four primary areas of the supply chain?
The four primary elements present within every supply chain include operations, purchasing, integration, and distribution.
Operations are the backbone of every supply chain and ensure that all employees and departments have consistent work and are kept on track. Equipment is monitored, processes are optimized, and everything is double-checked to ensure supply chain efficiency.
Purchasing can be a challenging task as it requires you to know exactly which goods to purchase for your company and at what time. This requires superior knowledge of your customers, clients, marketplace seasonality, and other factors that may impact demand.
Integration is the process of collaborating and communicating with everyone involved in a particular supply chain, helping discuss ideas, eliminate errors, and save money. When one division is integrated with another, new teams are built, and new areas of expertise are put into a position to thrive.
Distribution is the final step of a supply chain where the end product is shipped last mile directly to customers using a third-party logistics (3PL) provider.
What is the difference between supply chain and supply chain management?
If you've ever wondered, "What is supply chain management?" and compared it to supply chain solutions, you'll begin to understand the key difference between these two terms.
Supply chain refers to the procurement, purchasing, sourcing, distribution logistics, and warehousing of raw materials, items, and other assemblies that bring a product to life in the marketplace.
Supply chain management, on the other hand, refers to managing the efficient and effective use of these resources. An excellent supply chain manager will work towards achieving maximum output with minimal inputs of resources.
Request a supply chain logistics management quote from NDS today
National Delivery Solutions (NDS) has over 100 years of combined hands-on experience in the supply chain logistics management industry. As a dedicated courier and logistics provider, they have built a dedicated team of professionals who have in-depth knowledge of all of the unique needs and requirements associated with world-class supply chain management and scaling challenges.
When it comes to communication, many clients of supply chain management service companies complain about a lack of transparency and reliable communication between themselves and their logistics partners. NDS takes pride in its transparency and communication, always ensuring that you'll be in constant contact and aware of any changes or new developments.
NDS will deliver to locations other couriers and logistics providers don't deliver to, increasing your reach and ensuring your loyal customers stay satisfied no matter where they might be in the world.
Request a supply chain logistics management quote from NDS today to discuss your needs and identify solutions to any supply chain issues your organization may be facing.