Last Mile Delivery | National Delivery Solutions
Even if an entire supply chain runs flawlessly across multiple countries, continents, or oceans, no goods can be delivered to their final destinations without a reliable last mile delivery carrier.
While it might seem easy at first glance, finding a reliable and reputable carrier or courier service is no easy feat. Since last mile delivery services take products from a central delivery hub to a final commercial or residential address, the speed and efficiency of your final mile shipments will directly impact customer satisfaction and your organization's bottom line.
If your business has successfully shipped several product lines to a number of central warehouse locations around the country, you would expect your last mile carrier to fulfill orders promptly and on time to customers. If a disruption occurs, your goods are lost or stolen, or there are significant delays in final mile delivery times, you'll begin to lose trust with your customers and make them much less likely to purchase again in the future.
Fortunately, when you use a solid and reliable last mile delivery provider such as National Delivery Solutions (NDS), you can rest assured that your deliveries will promptly make it to their final destinations with top-notch service and quality care during transportation.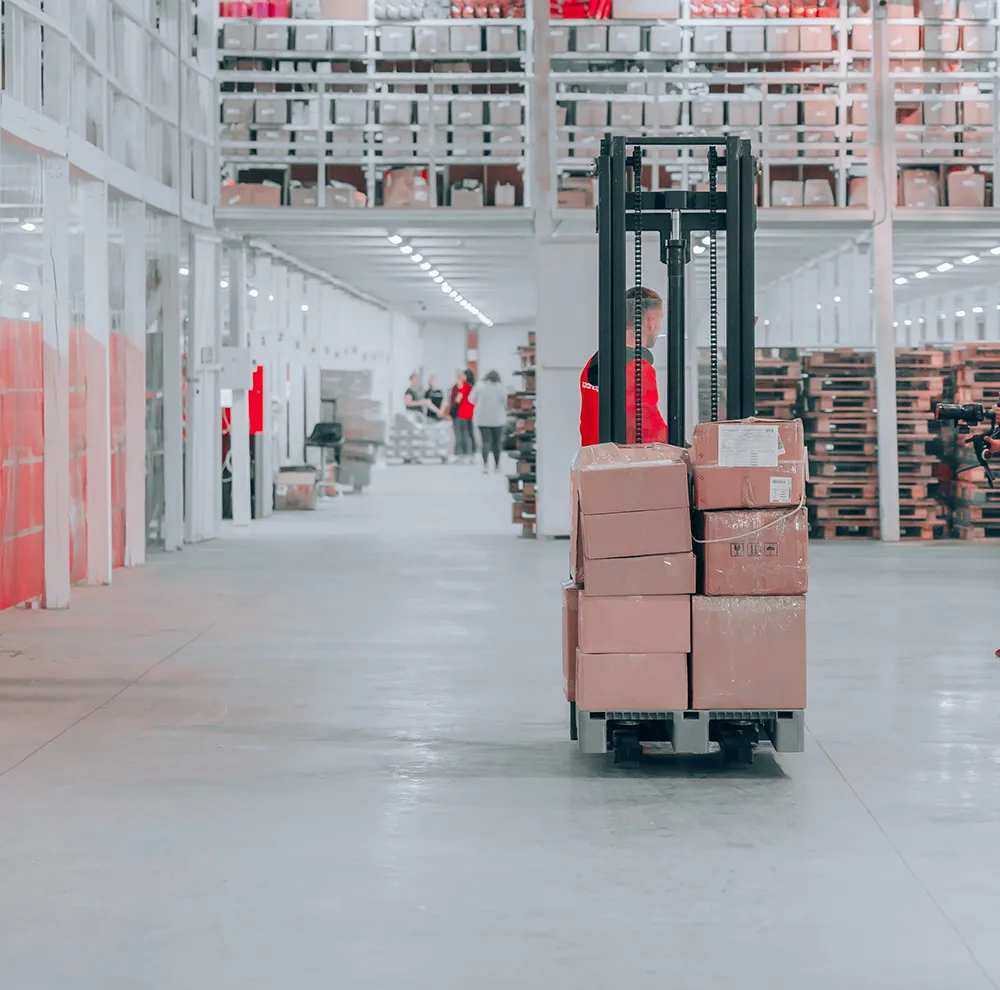 What is last mile delivery?
Last mile delivery is a term used in logistics and transportation to describe the transportation of packaged goods from a central hub or warehouse to their final destination. Businesses that rely on the last mile for delivery to customers include e-commerce stores, consumer products companies, retailers, and more. For the majority of orders being fulfilled through a last mile delivery carrier, the final destination will usually be a residential or commercial address.
Last mile delivery carriers are tasked with delivering packages in the most cost-effective and timely manner possible, often having a fleet of delivery vehicles that deliver products to customers firsthand.
When last mile deliveries are completed on time, businesses have happy customers who are thrilled to receive their orders in a prompt and efficient time period. On the contrary, delays and setbacks during the last mile will often result in angry customers who demand to know where their packages are, some who may go as far as to demand refunds or replacements from the business they ordered from.
In the following sections, we're going to discuss the importance of last mile logistics and why prompt and efficient final mile delivery is key to running a successful business in the long term.
The importance of last mile logistics
The loyalty and trust your brand builds with customers over time is not something to be taken for granted. While trust may take months or even years to build up, it can all come crashing down in a matter of minutes.
Last mile logistics is becoming increasingly important in our modern world of rapidly advancing shipping technologies and ever-decreasing delivery times.
With transportation and logistics giants like Amazon, who offer two-day, one-day, and even same-day delivery, more and more customers expect their packages to arrive on time and as quickly as possible. As delivery times decrease, customer expectations continue to rise, making it essential for businesses to adapt and adjust their last mile delivery times to meet these demanding expectations.
Customer satisfaction
Delivery speed and efficiency in the final mile are directly related to your organization's customer satisfaction, especially if certain delivery times were promised prior to purchase. When customers receive their deliveries on time, everyone's happy and satisfied. If a delay occurs during the final mile, however, you can expect to hear from a number of upset customers whose expectations weren't met.
Last mile delivery is critically important to customer satisfaction. If you want to keep your loyal customers happy and spread the word about your company's incredibly fast shipping times by word of mouth, you'll need to find a last mile delivery carrier that can consistently achieve this level of results.
Higher delivery speeds and cost efficiency
When customers order a product to be shipped to their door, whether that be consumer items or automotive products, the most impactful element when it comes to improving fulfillment and delivery speeds is a solid last mile delivery plan. As businesses sell more and more goods online, last mile deliveries from a central warehouse, distribution center, or hub will become even more important, especially as a differentiator from the competition.
If your business gets last mile delivery right, you'll be able to consistently offer high-speed deliveries and save significantly on costs and expenses over time. The more reliable your final mile carrier is, the less likely you'll encounter issues or have to process a refund or replacement claim from customers.
Saves time & increases your organization's bottom line
Optimizing your organization's deliveries in the last mile is increasingly likely to grow your bottom line, increase profitability, and save time in the long run. Working with a reliable third-party logistics (3PL) provider, such as NDS, will allow your business to focus on key revenue-generating activities rather than handling and managing deliveries firsthand.
When your company has extra added time to improve your products, improve your services, and assign your teams to critical work that moves the needle, you'll be much more likely to grow as a company and bring in more revenue as a result. 3PLs that offer last mile delivery are the perfect solution.
What does the last mile carrier delivery process look like?
When working with a 3PL or delivery carrier that has agreed to take your packages to their final destinations, there's a typical shipping process each package must go through prior to reaching the customer's door.
From a shipping hub to its final destination
Last mile deliveries almost always start at a central transportation hub, such as a warehouse or product storage facility. Whenever a customer places an order for a particular product, their order is fulfilled by finding the product on a warehouse shelf, picking it, packaging it, and then sending it off to a last mile delivery carrier. 3PLs will often be able to include automation in the mix within their fulfillment centers, improving the delivery experience, removing inefficiencies, and helping them overcome the challenges of last mile delivery to ensure fast delivery in urban areas, rural areas, and other locales.
Common last-mile carriers
Once the last mile carrier receives a particular package with destination instructions, they'll start making their way to the final customer address while doing everything they can to be on time in their scheduled delivery window.
Some common last-mile carriers that are most frequently used today include FedEx, UPS, USPS, FedEx SmartPost, and UPS SurePost.
What are the benefits of last mile transportation?
Last mile transportation that's prompt and within the scheduled delivery time, as agreed upon by a business and a customer, has a wide range of benefits. When optimized and set up properly, last mile deliveries can reduce shipping costs, improve transportation times, increase route efficiency, increase customer satisfaction for a better customer experience, set up scalable staffing structures, and provide accurate last-mile carrier tracking.
We're going to dive into each of these elements in greater detail and look at how they can improve your logistics and transportation business today.
Reduced shipping costs & improved transportation times
One of the most impactful benefits of last mile delivery is the reduction in shipping costs and improved transportation times that result from an optimized final mile delivery process.
When you use a reliable carrier and/or logistics provider to arrange your last mile transportation, you'll be able to save on costs and expenses by outsourcing the process or fulfilling larger volumes of orders. Furthermore, an optimized final mile will result in faster transportation times and increased customer satisfaction.
Increased route efficiency
If you're not currently using a third-party logistics provider (3PL) or a last mile delivery carrier, you could be transporting packages along unoptimized and inefficient routes that are eating into your profits and reducing delivery speeds.
Reliable last mile transportation carriers will ensure that your goods are always being delivered using the optimal route and take any special considerations and precautions in mind depending on the fragility and sensitivity of your cargo.
Scalable staffing on-demand
3PLs, last mile carriers, and logistics providers often have multiple teams that are tasked with deliveries, order fulfillment, picking, and more.
If your company isn't equipped to hire new staff on demand to cope with increased order volumes or higher production loads, hiring a 3PL that also handles the last mile will ensure that you can always scale. A 3PL will have the ability to allocate additional staff and resources to your particular deliveries, getting them out on time and delivering them within their scheduled destination windows.
Accurate last-mile carrier tracking
Most professional last mile delivery carriers have geolocation and tracking technology that allows both customers and shippers to track each package during transport accurately in real-time. Instead of providing a vague description of where a package was last scanned, carriers who implement tracking technology can show customers exactly which street or intersection their package is currently at, giving them a much more accurate delivery time estimate and peace of mind until the package gets to their door.
Is outsourcing final-mile delivery right for me?
Depending on your current organization's delivery and fulfillment process, hiring a third-party logistics (3PL) company and last mile delivery provider could be an excellent decision.
Some questions you can discuss with your team members to determine whether or not you need assistance with last mile delivery include:
Do we currently run optimized delivery routes that solve for the fastest path to each customer?
Are we leveraging geolocation or GPS technology to show customers exactly where their package is in the last mile?
Do we have a central warehouse or distribution center in the areas most of our customers reside?
How are our team members handling the order fulfillment, picking, and packaging process?
Can we save money by outsourcing picking and packaging to a 3PL?
Is our customer base satisfied with current delivery times, and can they be improved?
If your organization answers several of these questions in the affirmative, then you'll likely benefit from outsourcing the final mile delivery process in your company.
Why Choose NDS for last-mile delivery
National Delivery Solutions (NDS) is a this-party logistics (3PL) provider and dedicated courier solutions organization that has over 100 years of combined hands-on experience in the space. Their team of professionals knows everything there is to know about the unique requirements and needs associated with logistics services and last mile delivery.
They pride themselves on transparency and communication and will always be in constant contact throughout deliveries, keeping you informed of any changes, delays, or disruptions.
When delivering to areas most logistics providers, couriers, and last mile delivery carriers don't service, NDS will go above and beyond to ensure that your shipments are delivered safely and on time.
Get a last mile delivery quote from NDS today