Medical Courier + Lab Logistics | National Delivery Solutions
Healthcare is a serious business. When the well-being of patients is on the line, healthcare facilities and medical providers need to be absolutely certain that critical medical items such as specimens, images, oxygen tanks, medical records, lab samples, equipment, and other medical or lab deliveries are delivered on time through their medical courier service.
Imagine if an unreliable courier delayed a critical piece of medical equipment required to perform a life-saving procedure. While this is only one example of how important medical and lab couriers are in healthcare systems around the nation, such incidents are entirely preventable if a courier is thoroughly vetted for reliability.
No matter what the situation may look like on the road, a solid, reliable medical courier service, such as those provided by National Delivery Solutions (NDS), will get your deliveries to their destination on time, every time.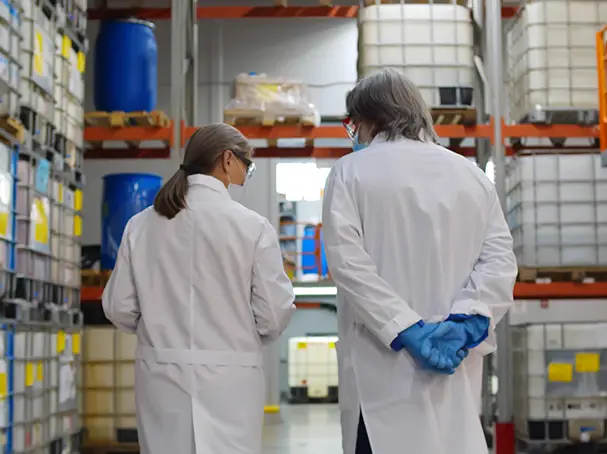 Healthcare Systems & Hospital Delivery
Healthcare systems and hospital delivery couriers are tasked with time-sensitive deliveries to medical facilities and various healthcare providers or doctors' offices in their respective service areas. When choosing healthcare systems and hospital delivery couriers, it's important to find an experienced service provider who adheres to medical transport laws and regulations, adheres to HIPAA, and follows OSHA and FMCSA medical regulations.
These deliveries will often deal with medical items such as oxygen tanks, vials of biological material or blood, hypodermic needles, and a wide array of other sensitive materials. Healthcare and hospital couriers, such as the medical courier professionals at NDS, know how to handle sensitive inventory, temperature control, PII (personally identifiable information), medically sensitive information on transported documents, and emergency situations. You can be confident that your medical deliveries will be protected on the road and reach their destination on time.
Home Healthcare Delivery
Home healthcare delivery couriers are responsible for transporting various medical equipment, medical supplies, documents, and other items patients need to continue their care and recovery in a home setting. This will often require the courier to pick up their delivery at a medical facility, transport it to a patient's home, and be available to answer any questions the patient has about the items delivered.
Due to the sensitive nature of medical documentation (HIPAA adherence) or personally identifiable information (PII) present on these deliveries, home healthcare delivery couriers need to be aware of the rules and regulations surrounding these specialized delivery services.
Diagnostic Laboratory Delivery & Specimen Transportation
Diagnostic laboratory delivery services and specimen transportation are common services required for pharmaceutical company logistics, laboratories, and healthcare facilities.
Couriers who transport specimens between labs and medical facilities know how to appropriately store the samples during transport due to their fragile nature, whether or not temperature control is required, and any biohazard or medical regulations that need to be strictly adhered to. More often than not, these services utilize tracking such as GPS to monitor deliveries, ensure timely transport, and make route adjustments based on road conditions. Any lab specimens or other inventory this type of delivery driver would carry would be guaranteed to be delivered on time, perhaps even same day if required.
Life Science Logistics
Life science logistics couriers are tasked with reliably and securely transporting medical devices, organs, laboratory specimens, tissue shipments, or other medical specimens and medical samples to their destinations in a time-critical manner.
This often requires the implementation of temperature control systems, accurate vehicle tracking, and experienced drivers who are well-versed in Hazmat, commercial driving, HIPAA compliance, CGMP compliance, and other medical transport rules and regulations.
Pharmaceutical Delivery
Pharmaceutical companies hire medical and pharma logistics couriers in order to take advantage of real-time delivery tracking, rush delivery services, experienced fleets of drivers, and safety and security on the road.
These couriers are OSHA compliant, HIPAA compliant, have a clean driving record, and oftentimes pharma board certified. When a pharmaceutical company needs items delivered in a time-sensitive manner, whether it's day or night, a reliable pharma logistics provider such as NDS will always be available to service their facility. Whether it is a medical facility or a series of pharmacies that need drugs delivered as soon as possible, these couriers will get the job done.
Wholesale Drug Distribution
Wholesale drug distribution often requires the planning and execution of a pharmaceutical logistics supply chain, especially if the drug is being delivered nationwide or is being rolled out in a time-sensitive manner.
Reliable wholesale drug distribution companies will be able to plan the most efficient and effective routes for drug distribution, work with warehouses and storage facilities on delivery schedules, handle temperature control and refrigeration as required, and execute wholesale drug distribution from start to finish in a hassle-free, painless manner.
Schedule a Free Comprehensive Logistics Analysis Today
National Delivery Solutions (NDS) is a team of courier logistics professionals with over 100 combined years of experience and in-depth knowledge of all aspects of medical and pharma transportation.
National Delivery Solutions offers 3PL courier services and logistics  to most major industries with a focus on medical courier services and lab logistics for healthcare systems including veterinary clinics, as well as automotive parts logistics and courier services. We also offer full-service logistics consulting.
NDS will deliver in locations other companies don't service and will quickly and efficiently perform any deliveries pertaining to medical, pharma, and lab logistics except for radioactive material, such as pertaining to x-rays. Their hands-on services ensure that every delivery is handled with the utmost quality care and is on time 100% of the time.
Unlike most medical courier services or medical delivery service providers, NDS prides itself on transparency and communication. As a client, you'll be in constant communication with your courier and be made aware of any developments, changes, or updates as they occur. Furthermore, you'll be able to get in touch with managers directly in a timely manner to express your thoughts, comments, or concerns.
Schedule a free comprehensive logistics analysis with NDS today, and ask any questions you'd like about your medical and pharma logistics needs. 
NDS is a private company that puts customer relationships and integrity first – if you'd like to work with honest, accountable, and experienced medical couriers who will take the time to give you the best courier experience you've ever encountered and get your items delivered stat, reach out to NDS today to discuss your needs in greater detail.
Frequently Asked Questions (FAQs)
What are the different types of medical courier services?
Depending on the healthcare provider or medical facility that requested medical courier services, medical couriers can safely and effectively transport items related to healthcare systems, hospitals, home healthcare deliveries, pharmaceuticals, wholesale drugs, diagnostic and laboratory equipment, and other medical and pharma inventories.
What are the benefits of using a medical courier service?
Using a medical courier service is critical in the healthcare and medical industry, where emergency deliveries may need to be made at the drop of a hat. Instead of having to wait for a standard courier service to take your order and make its way to your facility, a medical and pharma courier service is equipped to handle extremely time-sensitive deliveries.
How do you choose the best medical courier company?
When choosing a medical courier company, you'll want to ensure that they have experience in the field, employ well-trained drivers who have the appropriate commercial driver's license and certifications, have an efficient tracking system for deliveries, are professional and courteous, practice transparency and effective communication, and know and adhere to medical transport requirements vigorously.